Listen to Audio
With the increasing threat to cybersecurity, it becomes necessary for a user to place all preventive measures to avoid damage to data security. It includes making behavior changes while being online, using built-in security utilities & features, trying third-party security tools, and more.
In this article, we have discussed multiple ways to help you secure your Windows PC in the most efficient manner.
Best ways to secure your Windows PC
Use Strong Password
Using strong passwords instead of Pin is one good security measure you can follow. Here, you can make this change under Sign-in Options in Settings. We suggest you should create at least 8 characters long alpha-numeric password for better security. Your password should consist of letters, numbers, and special characters for a strong password. To create strong passwords, you can also try using the best password manager tools. These tools help you create strong passwords for your multiple accounts. It also allows you to secure your passwords in a secure vault that remain encrypted for better security. Creating strong passwords will also work as a strong identity theft protection feature for comprehensive security.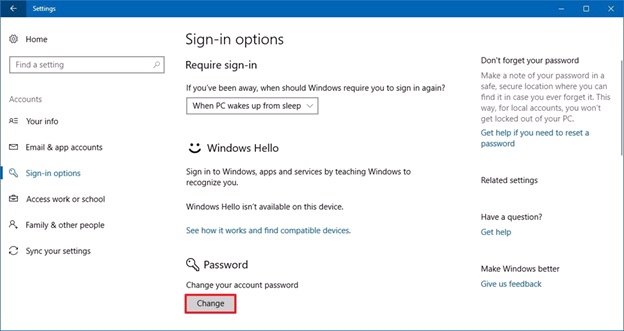 Source: windowscentral
Create Local Account
The next important change you can make on your system is to create and use a local account instead of Microsoft account with all administrator privileges. When you use Microsoft account with all privileges there are high chances it could be misused or exploited. For example, you have accidentally installed a malicious app. Now that app has spread malicious content on your device and tried to control your important settings via your administrator account. In the second example, it is possible that someone break into your password somehow and now he is able to make any changes he requires. Thus, it is best to use a local account with necessary permissions instead of an administrator account with all privileges. To make this change, go to Settings > Accounts > Sign in with a local account instead.
Source: toppasswordsoftware
Avoid Open Networks
Open networks like open or free Wi-Fi brings a lot of security challenges. While free Wi-Fi may sound lucrative deal, but it isn't free of its limitations. Breaching system security could be absolutely easy for a cybercriminal with a small piece of malicious software on an open network. It is highly suggested that you shouldn't perform important and sensitive tasks like online banking, shopping, etc. on an open network. It will help you avoid unnecessary trouble caused by cybercriminals. You can also make a small tweak in system settings to avoid connecting to any random network instead connect to only suggested open hotspots. To make this change on your system, go to Settings > Network & Internet > Wi-Fi. Now toggle on "Connect to suggested open hotspots" option. Once you enable this feature on your PC, it will give you better control over your network connections.
Source: digitalcitizen
Disable Location Permission
Multiple apps on your device ask for location permission when you install them. It is meant to provide your seamless services. While location permission acquired by various apps is necessary for seamless operations by these apps, in some cases various apps ask for location permission for no good reasons. Thus, they not only track your device location, but they may even cause unnecessary security concerns for you. Furthermore, it also consumes system resources unnecessarily. To disable unnecessary location permission acquired by different apps on your system, go to Settings > Privacy > Location. Here, sift through all the apps to find apps for which you want to disable location permission. To disable location permission, simply toggle off the permission button given next to each app.
Source: howtogeek
Avoid Opening Unknown Attachments
The next security measure you should follow is to avoid clicking on unknown links and avoid opening unknown attachments. While approx. half of your emails land in spam folders the threat is real and emerging. Here, cybercriminals try many well-practiced techniques to send spam emails to dupe users. They mention multiple malicious links and attachments and try to dupe users with some amazing offers and discounts. Here, they ask users to click on these malicious links or tell them to open malicious attachments to infect their device. While most users today are aware of these tactics, still there are people who get duped by these cyber criminals. Thus, it is best to avoid opening emails sent from unknown senders. You should strictly avoid clicking on links or opening attachments in these emails and messages.
Source: hellotech
So, these are a few important tips & tricks you should follow to avoid security threats and keep your Windows 10 system secured. In addition to the above-mentioned tips, if you know more such ways then feel free to share below in the comments section.
Originally posted 2019-05-02 17:47:39. Republished by Blog Post Promoter