Listen to Audio
If you are looking for reliable and powerful software to decode DVD, then you should definitely try WinX DVD Ripper Platinum. It's a fast program with a myriad of conversion and customization options.
Are you are movie lover with a large collection of DVD movies, then will probably need to be able to use backup copies of at least the DVDs you use most often.
With the popularity of portable devices (Smartphone's, tablets, Phablets, etc.) there is also the need to be able to see your favorite movies on these devices; however, using them alongside a DVD player would be impractical and not easily feasible.
DVDs are also usually protected to prevent unauthorized copies from being made, but this is to the detriment of those who regularly own the original copy and do not want to run the risk of ruining it.
To solve these problems it is convenient to copy and convert protected DVDs into other ad hoc digital formats to be played on various portable devices.
So, do you want to create one or more copies of your videos or files on DVD? WinX DVD Ripper Platinum by Digiarty Software, Inc. is a tool that does its job quickly and easily to rip your DVDs and create a digital and secure copy.
DVD READ ERROR
When you arrive in a country with your laptop under your arm, and try to play a DVD from another geographical region, even for work reasons, you will see that you cannot do it.
DVD players are manufactured with codes, known as "region codes," which prevent the machine from recognizing and playing DVDs from a different region. Currently there are nine region codes. The United States, for example, is Region 1, while England is in Region 2. You can unlock the region code of your DVD player using WinX DVD Ripper Platinum, so you can watch a DVD from any area.
Scratches and copy protected are the two main reasons of this DVD read error, but you don't worry, DVD ripping program WinX DVD ripper has advanced technology that can easily rip copy protected DVD.
Graphic Interface
It is a feature-rich software, but with a very intuitive graphic interface that allows you to navigate through the various menus and options without difficulty, going from one activity to another in just a few seconds.
As mentioned, this free DVD decrypter has a simple and clean interface, you can also change language by clicking on the icon at the top right which shows the symbol of a small question mark.
On the main screen we find the buttons Disk, Image, Folder, Clear and Option, these commands make us understand that you can convert a DVD file from a hard disk, from a file present in a folder or from an ISO image.
At the bottom right we find the RUN button that allows us to start the conversion process, moreover, you have "Folder" option, in which it is possible to choose the location where to save the file at the end of the procedure.
Operation
WinX DVD Ripper Platinum is intuitive even in operation, once the DVD has been inserted just choose the format in which to convert the DVD (MP4 / H.264, MKV, iTunes, MOV, FLV, MPEG, AVI, MP3), in this way you will be able to watch DVDs directly in programs like iTunes and QuickTime.
Furthermore, compatibility is also available for mobile devices, including iPad, iPhone, Samsung, Windows Phone and many other models, so you can watch movies from any Smartphone and tablet.
WinX DVD Ripper Platinum also allows you to get DVD ISO images.
Strengths and Personal Experience
Unlike other free ripping software, WinX DVD Ripper Platinum is much easier to use even when you have no knowledge of ripping techniques. Anyone can backup DVDs in minutes. You can easily rip protected DVD.
Once the software is open, you can choose Disk, Image or Folder as the video source, choose a video output format, select the destination folder, select any other option on the right and click on Run to start the ripping process.
The new version, supports hardware acceleration of CPU and GPU level 3 using NVV Intel Intel NVIDIA (CUDA) and Intel QSV; what does it mean? This means that it can speed up the conversion speed while maintaining the highest possible quality.
During my tests I took more or less 10 minutes to copy an entire DVD. Impressive. Clearly the speed varies depending on the PC hardware you are using. The software can clone the entire DVD into a folder or ISO file.
Overview
Thanks to this simple list of its features you will immediately understand why it is the choice of more than 6 million users:
Supports DVD movies, ISO images, 99-title DVDs, DVD folders, home-made discs, damaged discs and many more;
Convert DVD to MP4, AVI, MPEG, WMV, MOV and all other popular and non-used video formats;
Take advantage of your GPU for fast and reliable hardware decoding;
Numerous tutorials on the WinX website to show you how to convert from one format to another, for example from DVD to MP4 or from DVD to hard disk;
Ability to insert subtitles with ease and numerous video setup options, without too many frills.
Interested in keeping only the music and/or audio tracks?
WinX DVD Ripper provides an embedded video editor. The editor is quite simple and offers simple features such as adjusting the volume, adding subtitles, video cropping and so on.
This software keeps its promises and does exactly what it proposes to do: convert any type of DVD into a myriad of different formats. The software layout is minimal and every function is exactly where I expected to find it.
Overall, I feel satisfied with the promises and features of this excellent DVD rip software.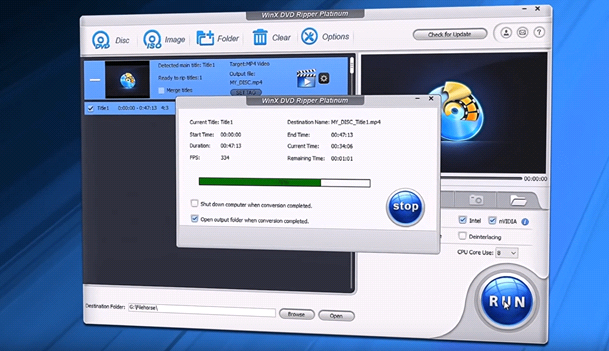 The entire program has been designed not to weigh down your PC's operating system and does its job in a very short time. Intuitive, flexible, economical, affordable for everyone. A program that surprised me and that I strongly recommend at least to try (for free) on the official website. It is available for both Windows and Mac users.
Cost and Promotions
The full price of the lifetime license with support and future updates included in the WinX DVD Ripper Platinum suite is about 67.95 dollars, don't worry if you don't want to spend this much, Digiarty Software puts at your disposal a giveaway that will allow you to get DVD decoder for free with all the features included!
Giveaway
If you're interested, just go to the WinX DVD Ripper Platinum License Giveaway page to download a copy of this versatile and powerful DVD ripper that turns DVDs into videos for iPhone, iPad, mobile devices and desktops.
This software is useful for many users, especially for those who want to switch from optical to disk files and therefore want to import their own DVD collection and then have everything digitally available on their favorite devices.
Conclusion
WinX DVD Ripper Platinum is an excellent program when your DVD won't play on Windows 10; it is a complete and effective solution, which allows you to take advantage of many conversion options.
The possibility of transforming the DVD contents into a file readable by the most disparate iOS, Android and Windows Phone mobile devices, with a wide compatibility of brands and models of tablets and Smartphone's, is very interesting.
The very simple and clean graphical interface is a positive feature, an aspect that is not at all obvious for a complete program like this, certainly one of the most functional of its kind.
The conversion speed of the file depends on the computer's CPU and its overall performance, as well as on the size of the DVD to be converted, but in principle it is very good.
WinX DVD Ripper Platinum is also available for free that offers many options and features for conversion, but the paid version with license purchase allows you to take advantage of many more options and features that are worth having available.
To know the advantages of the full license, as well as current discounts and gifts, you can go to the official page.
With 14 years of industry experience, Digiarty is now a leader in personal and home audio video applications based on Windows and MacOS. It provides a fast and easy to use DVD ripper / copier / creator, video converter, online video Downloader, media player, iPhone file manager, audio streaming audio application, etc.
Have you ever tried a DVD converter?
What do you think of this excellent WinX DVD Ripper Platinum?